MORE THAN SIMPLY FACTS -
A COMPANY WITH TRADITION AND INNOVATION
Our company has developed over the years and we work every day continue to get better.
We are delighted to be exhibiting at NEWCAST again this year! The exhibition takes place from 12th to 16th June 2023 in Düsseldorf and is one of the most important events in the foundry industry.  
As one of the leading manufacturers of foundry products, we will be presenting our products and innovations together with the ZÜRN Group. Visitors will have the opportunity to talk to our experts and learn more about our products and solutions.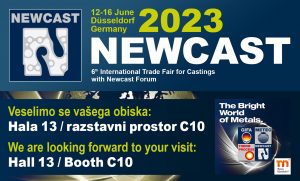 We look forward to seeing you at NEWCAST and invite you to visit our stand C10 in hall 13 to find out more about us and our commitment to the foundry industry. 
On the occasion of the Day of German Unity, the Managing Director Mr. Antonio Böckmann was invited by the ambassadors Adrian Pollmann and Natalie Kauther to the German Embassy in Lublijana. Their vision is "Germany and Slovenia are trusted friends and close partners. Together we are working for a good future in a united and solidary Europe. Because together we are stronger."
We look forward to a successful joint cooperation. Thank you for the invitation.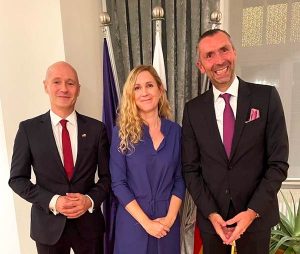 After more than 65 years, ZÜRN Group has left Munich's Lehel with a heavy heart and has now moved to the beautiful green Munich suburb Oberhaching. Here we can offer our colleagues a new, modern, and technically high-quality working environment and many open spaces for appointments and meetings. Our own terrace with a new and welcoming kitchen creates a nice balance during the working spare time.

We 💙 welcome all colleagues and customers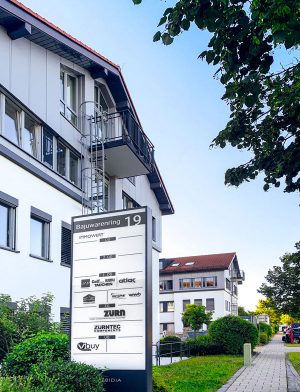 A total of 323 companies exhibited in two exhibition halls, with 68 percent of them coming from abroad. A total of 40 nations were registered, the most frequently represented – after Germany – were Italy, France, Turkey, Austria and Switzerland. Above all, the sectors of mechanical engineering, plant construction, pump and compressor construction, drive technology and commercial vehicle construction were strongly represented among the visitors. About 71 percent of the trade visitors are interested in castings, about 53 percent in forged parts. Just under half – 48 percent – for the machining of cast and forged parts.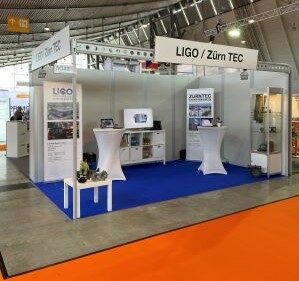 We will present our products at CastForge 2022 on our booth 5C42 from June 21st to June 23rd 2022 in Stuttgart.

We are looking forward to your visit to our booth, interesting conversations and your feedback.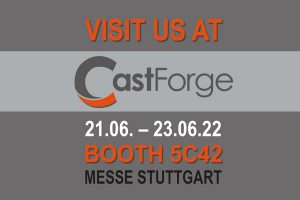 "Help faster together" is the motto of over 20 aid organizations with 1,900 aid projects in 100 countries under the auspices of "Aktion Deutschland hilft". The ZÜRN Group supports the victims of the flood disaster with a donation to
"Aktion Deutschland hilft"
-> To the donation page: click here
Many employees of the ZÜRN Group also privately support the flood victims with their donations. 
We stick together.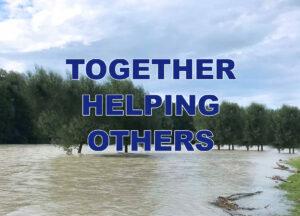 For our foundry Livarna Gorica d.o.o. (LIGO), international relationships have been the basis for successful worldwide cooperation with customers and suppliers since LIGO was founded.
The new mayor of Nova Gorica, Mr. Dr. Klemen Miklavič and the German Ambassador to Slovenia Mr. Klaus Riedel accepted with pleasure the invitation from Mr. Antonio Böckmann, Managing Director of the ZÜRN Group, to visit the foundry on November 19, 2019. The 24-year commitment of our company group in Slovenia was appreciated during the company tour.
We have lively exchange with our customers and interested parties even in times of restricted travel conditions via telephone, email and video conferences. Do you need customized products, do you have questions about the techniques used in our foundry or would you like our advice? We are gladly there for you by phone or send us an email to info(at)li-go.si.
We look forward to pattern the future together with you.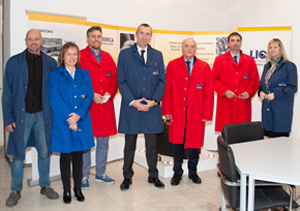 The invitation of the German ambassador Mr. Klaus Riedel and his wife Dr. Brigitta Kupferschmidt-Riedel for the embassy reception in Ljubljana to the German Unity Day on 1st October 2019, our managing directors Mrs. Simona Stegne-Ceraj and Mr. Antonio Böckmann of Livarna Gorica d.o.o. (LIGO) accepted with enthusiasm.
As artistic framework of the reception officiated an exhibition by the paintress Mirjam Sore Semolič and the clarinet sextet of the Slovenian police orchestra.
Also in this year Livarna Gorica d.o.o., a long-time supporting member of social projects in Slovenia, supports the profound German-Slovenian relations.
f.l.t.r. Simona Stegne-Ceraj, Klaus Riedel, Dr. Brigitta Kupferschmidt-Riedel, Antonio Böckmann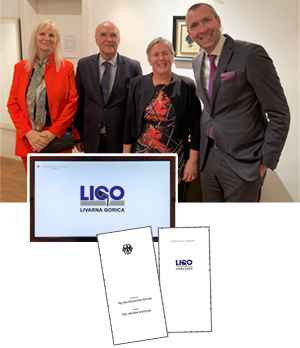 Among 430 exhibitors, our foundry Livarna Gorica "LIGO" presented their range of castings at the NEWCAST trade fair in Düsseldorf. With 3,900 international visitors, the flagship trade fair was a magnet for experts.

LIGO not only impressed the visitors with its attractively designed booth, but also with the presented exhibits, which attracted a lot of attention.
Thank you for visiting our booth and the very good feedback.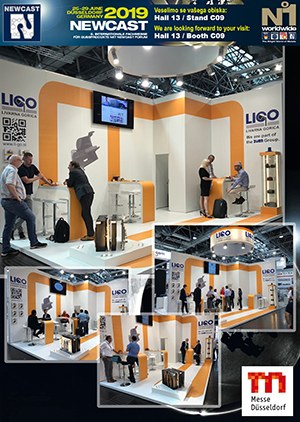 On 2nd October 2018, the German ambassador Klaus Riedel and Dr. Ing. Brigitta Kupferschmidt-Riedel invited on the occasion of the German national day "German Unity Day" at the residence of the German Embassy in Ljubljana in Slovenia for a reception.
This year our managing directors Mrs. Simona Stegne-Ceraj and Mr. Antonio Böckmann of the Livarna Gorica d.o.o., a longtime supporting member of social projects in Slovenia, were present in the German embassy again.
f.l.t.r. Simona Stegne-Ceraj, German Ambassador Klaus Riedel, Antonio Böckmann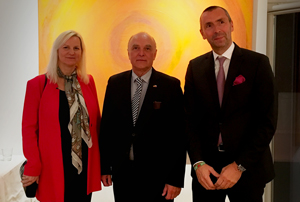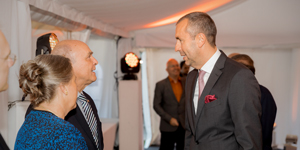 By reason of the German Unity Day 2017 invits the German ambassador Mr. Klaus Riedel and Mrs. Brigitta Kupferschmidt-Riedel to a reception at residence in Ljubljana in Slovenia.
As a long years is the Livarna Gorica d.o.o. a sponsor and this year again with our managing directors (Simona Stegne-Ceraj und Antonio Böckmann) thereby.
We wish all guests a beautiful evening.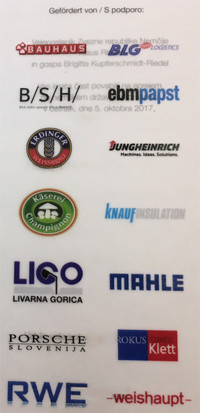 At Handelsblatt edition no. 45 dated February 27th, 2017 innovative and successful companies from slovenia were presented under the subject "SLOVENIA INVITES YOU".
Also our foundry LIVARNA GORICA D.O.O. with than more of 70 years experience was able to introduce theirself on the know german media platform "Handelsblatt".
On a complete page our foundry was presented as the foundry with tradition and innovtive. The article reports about a short company history and the wide performance range, casting technology and as well the quality management.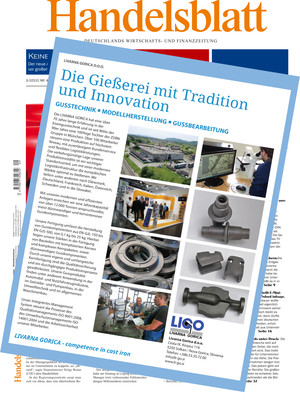 German Ambassador Mr. Klaus Riedel received our managing director Mr. Antonio Böckmann and Simone Stegne our foundry manager of LIVARNA GORICA in occasion of the german unification day 2016 at the residence in Ljubljana on October 3rd, 2016.
As now since almost two decades sponsord LIVARNA GORICA this reception to support social projects in slovenia.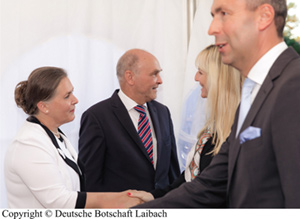 With the modernization of our blasting plant, we take further steps towards efficient technology. Even if the investments amortized over a long-term period, the focus is on continuous expansion of reproducible results on our cast product.
Results:
Improvement of radiation results and further energy savings
Less wear on the system with magnetic separator system
The same radiation results over a longer period of use (process reliability)
Latest drive technology for energy saving.
Further reduction of emissions.
Robinova zabava, organized by Radio Robin! ! Most visited event in the city of roses! 150 performers from Primorska region! We are proud that we joined, as a sponsor this respectable company!
Mr. Dr. Jakob Haselhuber, vice ambassador of the German embassy in Slovenia followed the invitation of our Managing Director Antonio Böckmann to visit our production facility. He looked and saw very modern and clean production process at our foundry. Mr. Dr. Haselhuber was surprised and impressed at the ambitious casting components and their applications. Cast iron arises once more as a top modern material performing 100% the request of sustainability.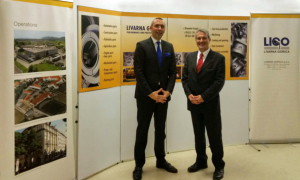 The world's leading trade fair for casting technology closed the doors for 2015. With a completely new booth design we presented us this year at the Newcast in Düsseldorf.
Thanks a lot for the many visits on our booth, the expert conversations and the very good resonance.
4. to 7. November 2014 Paris

For the first time we presented Livarna Gorica on the Midest.
We are suprised and very happy about the positve feedback.

Thank you for your visit and the interesting conversations.
As part of the process optimization we have modernized our sand preparion plant. With the fully automatic regulation of Michenfelder control system we get, regardless of external influences, a constant sand quality and a further improvement in the casting surfaces.
The managing directors Antonio Böckmann and Simona Stegne welcome Mrs. Dr. Prinz (German Ambassador in Slovenia) and Mrs. Segura (Commercial Department of the German Ambassador) at our foundry Livarna Gorica in Nova Gorica. By a company tour the Ambassador got a detailed impression about the production processes of a foundry, the numerous investments and the creation of working places. Mrs. Dr. Prinz honored the twenty years of Livarna Gorica and the willing of Zürn Group for futured investments at site. Our success confirms us and we will invest in the future for clean production processes and sustainable products in the view of our customers.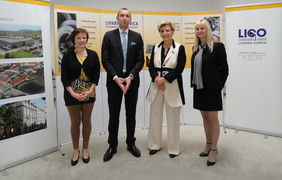 Livarna Gorica d.o.o.
Cesta IX. Korpusa 116
5250 Solkan / Nova Gorica
Slovenia