Our complete service package for your convenience.
We coat cast components according to your wishes. Whether it's additional surface protection or an optical upgrade you require – we have the optimum coating system for the job. Environmentally friendly water-based processes and modern extraction systems are a standard part of our work.
We use water-based paints matched to the respective product for our wet spray painting. This method allows specific areas of a product to be coated in paint. We distinguish between the requirements made on the coating: e.g. simple primers, heat-resistant paints, impact-resistant paints.
The product to be painted is dipped into an electrically conductive water-based dipping paint. A direct voltage field is applied between the products to be painted and a counter electrode and results in even paint adhesion. The method is very suitable for complex components since the paint fills tight cavities and is distributed evenly.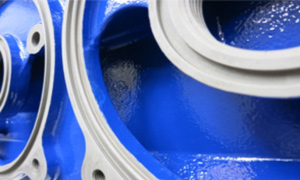 In almost the same way as dip painting, powder coating is mainly used for electrically conductive materials. However, a gun is used to apply a powder paint which sticks due to static charge. The powder is melted in the curing stove and is connected to the component surface. We offer the electrostatic powder coating or sinter coating methods.
During enamelling we apply a glass-like coating to the cast component. The enamel is burned in in special stoves resulting in a heat-resistance and extremely durable surface.
Livarna Gorica d.o.o.
Cesta IX. Korpusa 116
5250 Solkan / Nova Gorica
Slovenia